Product customization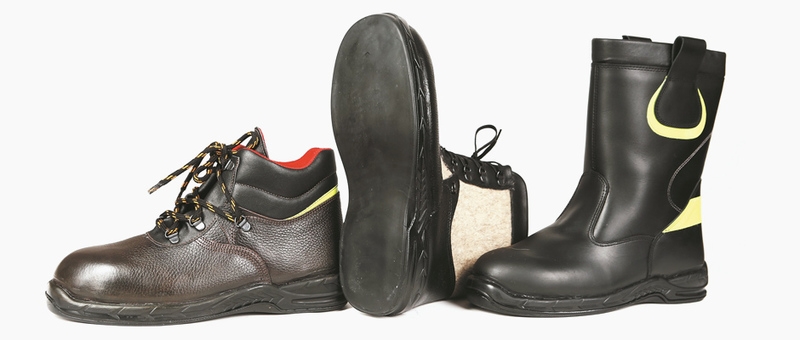 "Yahting" shoe-making factory offers opportunity to customize product to individual requirements depending on production conditions. Basic shoe models may be modified for individual corporate compliance and consideration of production process conditions and categories of workers.
Besides modified design for shoes, the following components of occupational footwear construction may be selected:
Sole – one density PU, double density PU, PU/TPU. Corporate colors and sole tread shape may be used on polyurethane and thermo-polyurethane soles.
Toe cap – thermoplastic (30 Joule), steel (200 joule), polycarbonate (200 joule) or fiber glass (200 joule).
Anti-puncture insole – steel, composite (protection against puncture 1200N).
Upper material: Natural leather with print; Haircell water-repellant smooth natural leather, nubuck in various coloring.
Special onlays on toe and heel parts: Special "application" on sole material to protect against scratches, TPU and wear-resistance leather with polyurethane coating onlays.
Usage of special materials, improving shoe properties:
• Membrane, installed between upper and lining, which removes moisture from foot, prevents water coming to shoe inside.
• Tinsulate (3M) of different density B200, B400, B800 gives shoes additional resistance to low temperatures not effecting shoes weight.
Shoe Lining may be made with 3D mesh for additional air exchange, tipic material, artificial wool, felt, artificial, woolen or natural fur.
Midsole:
• Basic insock of flexible material, 2 mm thickness;
• Input of anatomic shape with soft insertions of foam polyurethane, shock-absorbing insocks, heat-insulating and etc.
This variety of modern and traditional materials allow our designers to find optimal solution in order to give customer ideal product from the design, protective properties, shoe cost points of view.
Usage of color elements in shoe construction (sole, natural and artificial leather, threads, lining) logo and labels application will create corporate style of products. By using these models, you may be sure that all regulations and standards of Occupational Health and Safety will be complied.